Flour Power - Coconut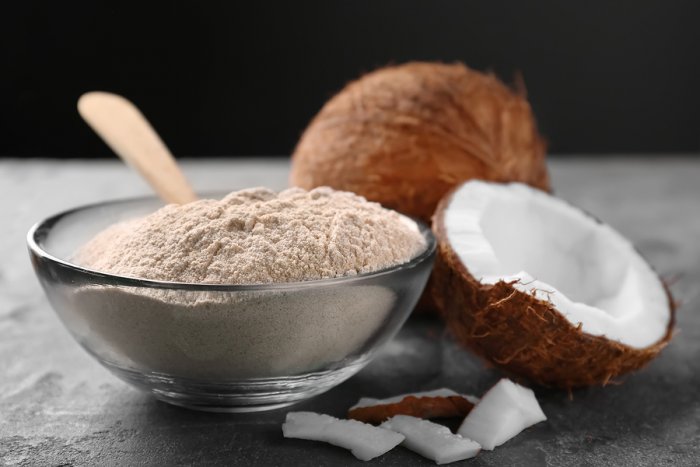 11th January 2018
Do you love the cakes but find the gluten puts the brakes on your gluttony?
Do you find yourself wishing you could find healthier alternatives for the kid's lunchboxes?
Are you just plain old sick of the same-same tastes and flavours you've been eating your whole life?
Remember how everyone jumped on the coconut water bandwagon a few years back (and rightly so)? Touted as the superfood of the week/month/year and available freely where scarcity reigned years previous – coconut (and its derivatives) soon made its way into even the humblest of kitchens. Due to its versatility, coconut flour is now a staple in many homes – and once you do some experimenting it'll no doubt become a regular on your shopping list too.
So, what is behind this meteoric rise in popularity?  Probably the fact that aside from tasting fantastic, coconut flour is high in fibre, protein, low G.I., low in sugar, and chock full of healthy fats.
What this means is that if you suffer from gluten sensitivity, Coeliac disease, or any other manner of digestive issues, diabetes, or nut allergies then coconut flour is quite likely going to be a culinary godsend to you.
Baking
Now, when you first start out baking with coconut flour it is important to keep a few things in mind.
The first is that you cannot substitute coconut flour for regular flour on a 1:1 ratio. A good conversion to remember is to use 1/3 to ¼ cup of coconut flour for every 1 cup regular flour being substituted.
Secondly, because coconut flour tends to clump it is necessary to beat it thoroughly with the other recipe ingredients.
Finally – products baked with coconut flour can be dense and dry, so it is important to up the number of eggs and other wet ingredients when baking.
All in all, coconut flour is a fantastic flour that can be used to recreate pretty much all your favourite breads and desserts – without the bloating and tummy upsets that go hand in hand with gluten based products.
Get inventive and get yours instore here today.
Blog categories side:
ALL CATEGORIES
LATEST BLOGS